We have received the results of Linda's health check and unfortunately we have bad news.
She has tested positive for hepatitis B so we can't take her here at MONA. It was a sad new and a big disappointment for the whole team, because we could already image her being part of the Family group and living happily here at MONA, but our facilities are not prepared nor have the sanitary permits to host animals with infectious diseases.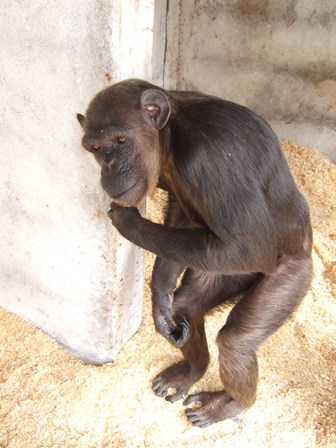 When we heard about this bad news we contacted the Dutch organization Stichting AAP, that counts with specially prepared facilities to house for life chimpanzees retired from laboratories o with infectious diseases such as hepatitis B or HIV. And yesterday they gave us the good news that they can take her in and give her the second chance she so much deserves! So at the end she has being lucky and we hope our friends of AAP will have everything ready for her rescue soon.
Both organizations are part of EARS, the European Alliance of Rescue Centers and Sanctuaries and this is not the first time AAP and MONA are working together. In 2007 they took Julio in, a chimp that although wasn't ill, he was a carrier for the virus of hep B,  and now lives happily within a group of chimps that are in his same condition.
We would like to say thank you again for your economic support to help Linda on this process. The Fundraising Dinner is still happening next April 26th and you need to know that not only the funds of that night but all your donations to help with the rescue and care of Linda will be transferred from MONA to Stichting AAP.
We will keep you updated.