The importance of raising your voice
The well-known restaurant booking platform ElTenedor released an ad in which they used a young chimp. MONA took action and launched a petition demanding that the brand withdraw it. Within a few days, more than 36,000 people had signed the petition on Change.org, and ElTenedor withdrew its advertising campaign and promised not to use chimpanzees or other wild animals in their commercials.
We want to congratulate ElTenedor for making the right decision and being so receptive to our message. Surely they will serve as an inspiration for many other brands that, due to ignorance, continue to use wild animals in their advertising campaigns.
Why is it important that ElTenedor withdrew its ad with a young chimpanzee? 
Because of the big negative impact this representation has on society. It perpetuates the mistreatment of these individuals and of the next youngsters that will be used. (Yes, there are still creative minds who think that renting a chimpanzee to market a product is a great idea).
But the problem is not "only" the suffering of a "few" individuals. Seeing chimpanzees in disguise and acting, revives the illegal trafficking of primates, destined for the lucrative world of exotic pets. Already we have encountered about 80 cases of different species of primates in the hands of private individuals. Many more than those used in entertainment. And that shows the great problem that still exists today in the legislation and control of ownership, but especially in the importance of the education as an agent of change. From our beginnings we are working for the awareness of society, through guided visits and the training of future primatologists, but what is being done at the legislation level?
Turning point: Solving the European wildlife rescue crisis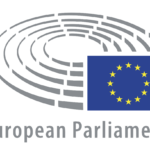 This is the title of the event that took place last November in the European Parliament, in Brussels. Fundació MONA attended this great meeting organized by EARS (European Alliance of Rescue Centres and Sanctuaries), Eurogroup for Animals, AAP, Renew Europe and Intergroup on the Welfare and Conservation of Animals.
The main topic was the current and worrying demand for exotic pets across Europe, and the challenges that rescue centres have to face. Proposals were made to find improvements and agreements in the actions to be carried out, in the short and long term. One of the solutions would be to adopt a Positive List for pet ownership at a European level. A list specifying which species can be kept as pets, instead of legislating each time a problem arises, this could be a preventive tool that would avoid all subsequent associated problems and expedite the response to a confiscated pet.
The current situation is not good, quite the opposite, but meetings like this provide hope for a better future for wild animals in our countries.
WHAT CAN YOU DO TO HELP?
Help secure a lifelong future for all the primates at Mona by donating just £2 per month…
If you go on holiday and see any primate (chimp, macaque or any type of monkey or ape) being used for entertainment or as a photo prop, don't take part or have your photo taken and report what you have seen using this form
PAY US A VISIT
Now is a great time to come and visit us but if your mind is on summer holidays, why don't you book your trip via the Easyfundraising site! You can search for your perfect holiday with all the big travel companies and every time you make a booking, Mona will receive a reward. Click here for more information
ONE LAST THING
It's possible to help raise money for MONA just by doing your normal shopping online.
Easyfundraising is a great website where you can help MONA simply by doing your everyday online shopping with over 3,300 big name retailers like Amazon, Argos, John Lewis, ASOS, Booking.com, eBay, Boden, and M&S.
Every time you shop, we receive a small donation to say 'thank you' and it's completely free too!
Just click the button below and select 'MONA-UK' as your supported cause.