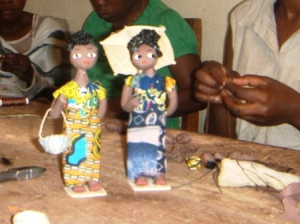 Coming directly from the Democratic Republic of the Congo, Mona is delighted to offer for a limited period only "Congolinas twende kuchesa" dolls (translated, literally means "come and play"!), a solidary and original gift.
These beautiful dolls represent Congolese women and are completely hand made at the Heri Kwetu centre in Bukavo, RD Congo.
Heri Kwetu works to secure a present and a future for both the physically and mentally handicapped people in the Kivu region, one of the poorest and severely war-torn areas in Africa.
The Heri Kwetu project began more than 50 years ago and we are proud to offer these limited number of units for 15 euros each.

The founder of this solidarity campaign has been the ONGD
COOPERA
, whom you support with each doll purchase. 43% of the profits go to
Lwiro
's Primate Recovery Center
(CRPL), in RD CONGO, a center which is run by COOPERA and led in the field by our friend, the Spanish veterinary
Carmen Vidal
.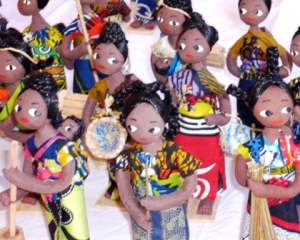 To purchase a doll or if you need more information do not hesitate to
stop by or contact us at MONA on 972477618 or at info@fundacionmona.org
To a happy and supportive Festive season