This time it will be a temporary rescue. It is the case of a former pet that used to live locked up in a terrace.

Fez is a 14 years old barbary macaque. She was living alone in a cage at the terrace of a private owner in Torroella de Montgrí (Girona, Spain). Neighbours reported this situation some years ago to various animal welfare organizations, us included. Unfortunately our macaque's facilities don't allow taking in any more individuals, that's why we couldn't rescue her.
Now this rescue is possible thanks to the team work of MONA and FAADA. Fez's final destination is a small group of macaques at the "Wildlife care centre Karpín-Abentura" at Bilbao. This is not the first time that Karpín, FAADA and MONA work together. You might remember the rescue of Chafi, back in 2010, a macaque that used to live in the hole of a wall barbecue at a balcony.But Fez's rescue has been especially complicated. Two years ago Stichting AAP  offered to rescue and transfer this animal to their rehabilitation center in the Netherlands. FAAD helped making the on-the-spot assessment of the situation and their wild fauna staff convinced the owner to give voluntarily Fez away. But due to the delay of the Administration to provide permissions for the transfer to the Dutch center, Fez's destination will be finally Northern Spain.
At these moments Fez is at MONA's facilities. But soon when we have the results for her checkup, that took place wih the collaboration of the Veterinary Hospital el Vellmarí (Lloret de Mar), she will be transferred to  Karpín. She will be then living for the rest of her live with her next of kin, finally in a social group.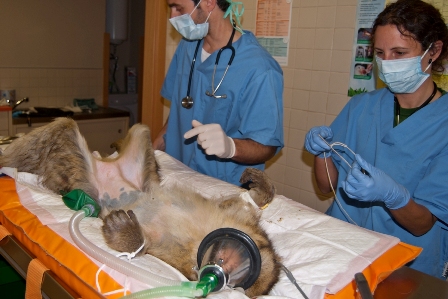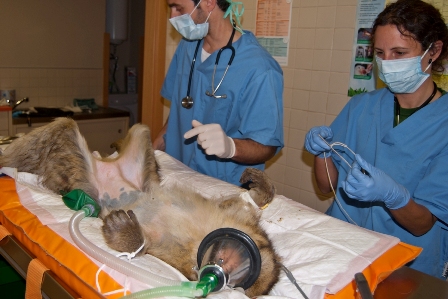 Moments of the health checkup at el Vellmarí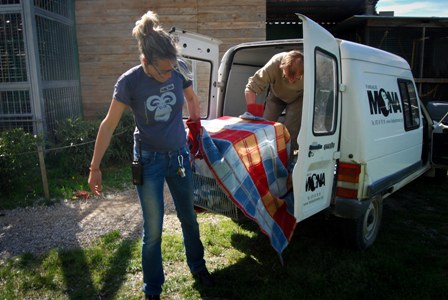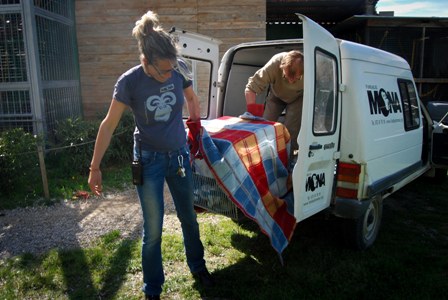 When Fez arrives to MONA. We have covered the transport cage for less stress.