It is with great sadness that we bring you the news of Sara's sudden passing.
A cold that she caught two weeks ago led to unexpected complications. She did not respond well to medical treatment, and on Monday at 5 pm, surrounded by the team that has loved her so much, she passed away.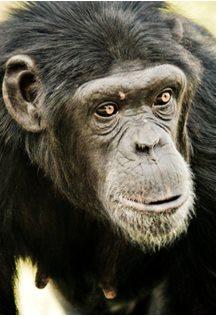 Sara arrived here with her brother Nico in 2004, following her mother Romies' footsteps to MONA, who we'd rescued 3 years earlier.Despite starting a 'new life' with us 8 years ago, Sara still showed much trauma from her previous life where she had starred in a television show and been confined to a small cage. Her rocking, along with the noise she made during it, was a constant reminder to all of us of how badly she had been emotionally scarred by her childhood abuse.
Sara will forever be remembered as a beautiful chimp with stunning eyes and loads of character and determination. She was hugely popular with all the staff and the other chimps in the family group, and although she very rarely provoked a fight, she would never back away from one to protect her own integrity. She had plenty of fire inside.
She was neither our most adventurous nor energetic chimp and she would often make us laugh at how clumsy and un-chimp like she appeared whilst climbing a tower or walking a rope. But she was also deceiving because when she wanted to be quick, she could be. She was incredibly strong too, probably our strongest female. With just a finger or two, she could go to battle with any keeper to prevent them from opening or closing a tunnel door.
Goodbye Sara. You leave a big gap in our lives and you'll be greatly missed by humans and chimps alike.
Thank you to all of our friends and supporters who helped us give Sara a good life for the last eight years.