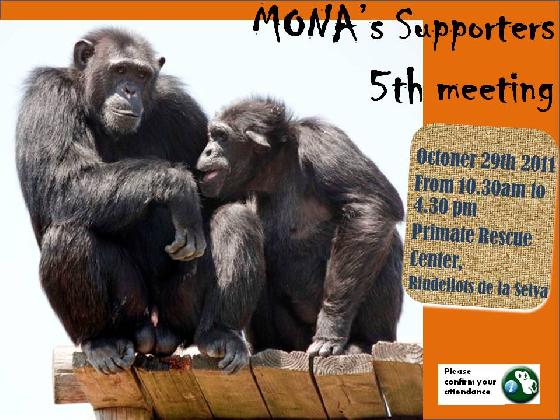 IMPORTANT: CHANGE OF DATE! DUE TO THE RAIN, THE MEETING IS CANCELLED FOR OCT THE 29th.
NEW DATE IS SUNDAY OCT 30th.

Dear members and supporters, we would like to invite you next October the 30th to our
5th MONA'S SUPPORTERS MEETING
As you know, this year is also our Sanctuary's 10th anniversary and it will be a real pleasure to be together to recall ten years of work and to talk, of course, about our future plans.
PROGRAM
10.30 am opening doors & coffes
11 am, Several speeches: we probably want to say too much in too short time so we recommend to be on time 🙂
12.30 pm visit to the facilities.
4 pm prizes presentations
4.30 pm closing & goodbye
WORKSHOPS & ACTIVITIES, for those who will attend with children we'll have a "Storyteller", educational activities and games. In addition, kids and adults will be able to do a workshop preparing enrichment for the chimpanzees.
EXHIBITIONS
– MONA Foundation, 10 years working for the primates, the commemorative exhibition that is touring several galleries in Catalonia
– Research Area: you can see a collection of posters presented over the years by our Unit of Ethology and researchers will be available to respond to your questions
– The enrichment as a recreational and educational activity: "Children entertaining chimpanzees !"
– primArt: official opening of this interspecies illustration project, in which human artists have participated with some very speacial: Waty, Tico, Juanito, Nico …
ALSO: there will be a charity raffle, an auction and we will try to get to adoptee No. 1,000!
And if you haven't yet, you can bring your old mobile phone to collaborate in our recycling campaign. You will be helping us, but that is not all, our action will have a broader repercussion, as you will be helping protect tropical forests. Also, for every mobile you bring, you'll have a free raffle ticket.
… And by the way, for the first time this meeting will last more than half a day. We will have a bar with very reasonable prices for those who decide to buy some food. We just need you to confirm your attendance, to know how many drinks we have to buy -so we can invite you- and how many chairs we need 🙂 Just sign up before October 28th  here
And to finish, we would like to recommend that you take the train that day. You can check train timetables for Sunday the 30th at Renfe. At 10.20 am there will be someone waiting for you at Riudellot's train station to guide you in a nice 15-20 minutes walk along a forest and the Onyar river.
p.s: speeches will be in Catalan or Spanish. Many of the research posters are in English. Also, most of the staff is fluent in English, so they'll be more than happy to answer to all your questions.
We are looking forward to see you then!